Discover more from Libertarian Prepper
The world divides politically into those who want people to be controlled, and those who have no such desire.
A Prepper's Review of the Scottevest Travel Vest
Scottevest sent me one of their Scottevest Travel Vests for testing and review, and so over the past two weeks I've been wearing it every day, putting it to use in various situations and with different gear setups. I've used it in cooler, windy weather, as well as hot sunny weather. I've used it on its own, with a day pack, and with a full-on bug out bag with a hip belt, to see how well it would work with all of these.
The first thing I did was measure it on my gram scale. Weight when empty: 466g in size medium. Pretty impressive given the multitude of pockets and zippers on this. For the ultralight crowd - weight could be reduced a little if I took off the tags, removed the keychain lanyard, took out the magnets, etc.
How I used it
Although the vest has many different uses (which I will go over below), the gear I carried was EDC-type gear, to expand on what I already carry in my trouser pockets. For shorter trips and urban use in most situations, the vest successfully replaced a need for a backpack, since it can carry documents, my camera, gloves, hat, water, first aid, compass, and some other bits and bobs very well. The vest has 24 pockets, and swallows your gear very well. When heading out for a longer day trip, I would take my day pack with me to include some more water, rain clothes, and an extra fleece in case the weather changes. Here the vest continued to carry all of my essentials on my person, giving me quick access to most things I would need while on the trail. This elegantly solves the problem of having to un-clip everything, take off the backpack, set it down, and rummage through just to find something important. There are other solutions out there created to address this problem, but they would look out of place in any urban environment and have less organizational capability. With the Scottevest Travel Vest, I've found that the organization of the pockets is very logical and after just a few days I could remember exactly where everything was. For those people who like to eat snacks while walking, the vest has plenty of space for that too. An additional point is that carrying items such as a pair of gloves, a bandana, a hat, etc., are excellent ways of increasing the insulative properties of the garment (although this backfires if you're dealing with high heat, in which case having such items on your person is probably not necessary in the first place). While I don't usually carry much in the way of electronics, I did find that the Travel Vest had the best headphone management system I've ever seen - great for joggers or just music lovers in general. They call it the Personal Area Network, and it's a series of well-designed cord-retainers and even special pockets just below the collar that will store your ear buds when not in use. Additionally, two tactile touch-through type pockets for your mobile phone or music player allow you quick access to change music, answer a call, check a map, etc., without having to remove the device. This might even prove useful in tactical situations.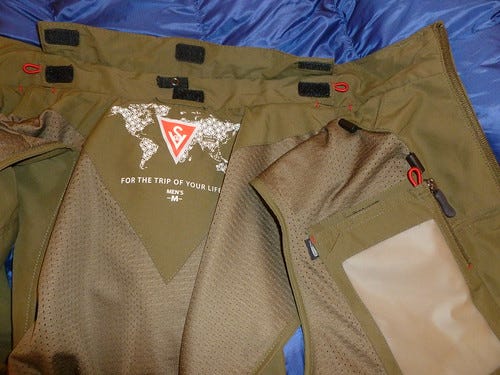 How does the Scottevest do as clothing?
After a hike out in fairly windy weather in just a shirt and the vest, I've found that the Scottevest is definitely wind resistant. Better yet, the vest is coated in a DWR that causes any water to simply bead up and roll off. Presumably the coating can be re-applied with a product like Nikwax or Grangers when it eventually wears off (I contacted Scottevest and they told me it shouldn't be a problem, but to try the product on a small portion of the fabric first, just in case). The outer zippered pockets (there are four, with smaller compartments inside) all have water-resistant material protecting the zippers too. At the same time, the vest does very well in high heat, where its breathability is assured because of a mesh lining and a lack of sleeves. One of the reasons I think the Scottevest Travel Vest holds so much utility for preppers is because it can be used virtually without regard to the weather. Unlike a micro-fleece or a rain jacket, the Travel Vest can be layered underneath or on top of any clothing items, so that you can use it both in summer and during winter, adding or taking away layers around it as necessary, while the Travel Vest and your essential gear always stays on you in the exact same pocket configuration. Make sure you get the right size. If you're in between sizes, go for the larger one as loading up the pockets reduces how much space you have; in a way the vest expands inwards.
The first layer in a grab-and-go system?
Up until now, when traveling I had been using the Maxpedition Tactical Travel Tray to keep all my essentials in one place, in case I had to grab just one item and run out of a burning building, and still have items you wouldn't want to be without in a foreign country. Now, I just hang up the Travel Vest on a chair, and will grab that. It's basically the first layer of my bug out bag (after the trousers), and when traveling contains an assortment of documents and cash in addition to the regular EDC.
 Can you still blend in?
One of my concerns when in an urban environment is blending in. Some have called this the "gray man" approach. This is why I don't carry camo backpacks around. They might fit in in some countries, but in France and I imagine most of Europe they're a real head-turner. Although the marketing on the Travel Vest says that they have a "NoBulge" pocket design that somehow prevents you from looking like a pretend fisherman, I was skeptical at first.
However, the system really does work. I mean, it's certainly possible to make things stick out, but by and large if you put a little thought as to what you put in and into which pockets, you can carry a remarkable amount of gear without it looking the part. This is because many of the pockets are aligned to cause no overlap, and the outer material doesn't seem to crease either. In the pictures below, you can see what the vest looks like and what I'm carrying in it at the time - you be the judge.
The vest with pockets filled for a day hike (I would have less with me for EDC):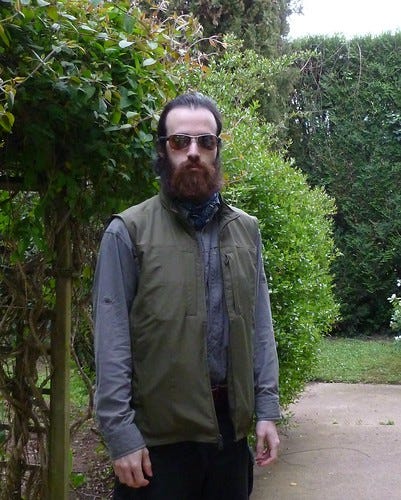 What's inside laid out on a table: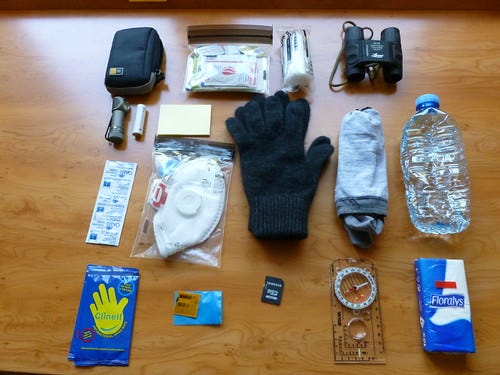 Item list:
- Camera w/ case.
- First aid kit and medium size dressing.
- Waterproof binoculars.
- Water bottle.
- Spare socks (in case the current ones get wet, cause blisters, etc.)
- Merino wool gloves.
- Post-it notes.
- Zebralight H502c angle flashlight, with a spare battery.
- FFP3 mask and ear protection.
- Chlorine tablets for water purification.
- Hand sanitizers.
- Rad sticker.
- MicroSD card in SD adapter with encrypted scans of all my important documents, family photos, etc.
- Full-size map compass with magnifying glass.
- Tissues.
Keep in mind that the above is not the entirety of my EDC, as I also carry quite a bit in my cargo pants (pictured below). My mobile phone is currently broken, and therefore not pictured. The above setup is also not even close to the limit of what can be loaded up in the Scottevest Travel Vest.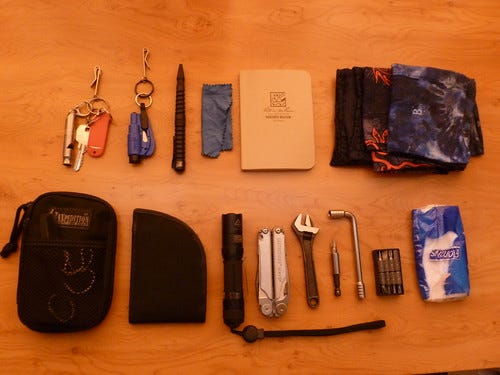 What's in my cargo pants.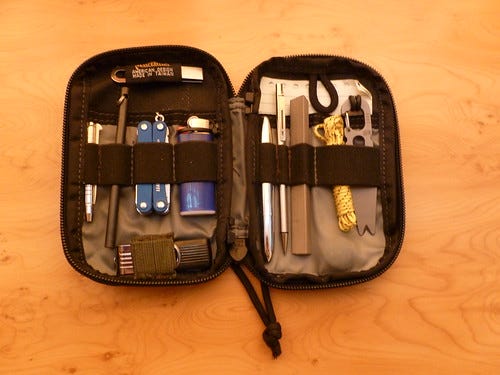 Maxpedition Micro pocket organizer opened up. As you can see, between what I carry in my pants and my vest, I'm already decently equipped to deal with both minor inconveniences such as cuts, burns, and ticks, all the way to unexpected disasters, from power cuts to collapsing buildings and clouds of dust. Not bad for an EDC, right?
Theft-deterrent
The fact that the pockets don't bulge much, that almost every pocket has a zipper, and that most of the pockets are on the inside, makes it pretty difficult for pick-pockets to steal your passport, tickets, wallet, smartphone, camera, etc. Since the pockets don't bulge out much, it isn't that obvious you're carrying a lot of valuables either.
Can it be used with a backpack's hip belt?
This was an area I definitely had doubts on. Since the hip belt of a pack is always cinched up pretty tight to properly transfer the weight of a heavier pack onto your hips, the presence of items in these pockets would obviously be a hindrance. In my testing, I've found three different solutions to this problem. Solution 1: Just transfer the items in the affected area to the hip belt pockets on your pack. Most good packs have either one or two hip belt pockets, and some packs also provide you with PALS webbing to attach extra pouches. If you choose to go this route, you can EDC anything you want in the lower pockets of your Travel Vest with no regard to the hip belt, and then simply move the contents to the pack when you go on a backpacking trip. Solution 2: Keep only soft items in the affected pockets. Not only does this solve the problem, but the soft items (e.g. gloves, bandana, fleece hat) actually provide extra padding - something especially useful if your hip belt is on the skinny side, a problem ultralight backpacks often have. Solution 3: Use the bottom splits on the sides of the vest to simply lift the vest over the hip belt. This is probably the easiest solution, but it also doesn't look that great with your vest flapping over the hip belt pockets. Of course if you're backpacking in the wilderness, do looks really matter? (To see what it looks like, see the beginning of my video review here).
Other potential uses
Covert/tactical: Although I don't use it for this myself, I could imagine that undercover police officers, civilians wanting to conceal carry, etc., could get a lot of use out of a vest with this much organization, yet which doesn't bulk out like most vests. Fishing: the sheer number of pockets makes organizing all of your fishing gear pretty easy. Backpacking & adventure racing: I've often run into the problem of quick access to items in my backpack. While on the trail, you've got to stop, undo all the straps, take the backpack off, and then rummage through the one or two large pockets until you find what you need. Not exactly ideal, and especially not if you're doing adventure racing. With the Scottevest Travel Vest, you can keep vital quick access items, like a compass, binoculars, map, food, water, etc., within easy reach, and not have to stop Bushcraft/survival: When out in the wilderness, it is vital to have your survival essentials on you at all times. A survival tin is nice, but there's only so much you can fit in one, and digging any one item out of a tin is always a pain. So if you find yourself leaving your backpack behind at your campsite while you go out to collect water, firewood, set traps, or whatnot, you can still carry your survival essentials with you in case you lose your way back or get run off by a wild animal. I was doing a minor water crossing last week and realized that if I fell and my backpack was separated from me, I would lose the gear in it and have to rely on what's on my person. The large back pocket could even fit a tarp, cordage, and space blanket if you weren't carrying a backpack. Canoeing/rafting: Likewise, I've often pondered what would happen if your canoe tips over, your backpack with all your gear floats away down the river, and you find yourself wet, cold, and nearing hypothermia with just the stuff in your pockets. My solution up until now was to use my cargo pockets. Carrying pouches on a belt also works, although they tend to interfere with a hip belt. With the vest, you have another two dozen pockets to organize survival essentials and emergency gear that can really improve your odds of survival. Every major pocket has a zipper. I counted 10 zippered pockets! Photography: This is probably a photographer's dream vest. I sometimes do a little amateur photography myself with my Nikon D60, and the multitude of pockets would make carrying spare lens filters, batteries, memory cards, and even a small gorillapod tripod very easy. Travel & tourism: Arguably the use this vest was primarily designed for. Going through airport security is much easier when rather than turning out your pockets you can simply put the whole vest through the scanner. That and the way the vest is designed makes pick-pocketing much more difficult. Having all your important documents and electronics on your person also reduces the impact of having one of your bags stolen while traveling. EDC'ing electronics: Besides the wire management and touch-through pockets, this vest sports a tablet pocket (which also works very well for carrying a map), and a pretty large rear pocket that could even carry a laptop.
Negatives/Room for improvement?
I spent a while thinking about this heading, because there really aren't that many negatives. I suppose that the 24 pockets can at first be a disadvantage. Until you learn where each pocket is and what you're keeping in it, you might find yourself losing stuff in the Travel Vest, and patting yourself to see what sticks out and where. But I feel this is a temporary problem, as after a couple of days of use, I'm very familiar with where everything is. I would also be interested in improving the durability of the outer fabric. I've not used the vest long enough to be able to comment on it (so far it's held up great), but the fabric is pretty thin and I wonder how well it will stand up to brushing against branches, or climbing into trees.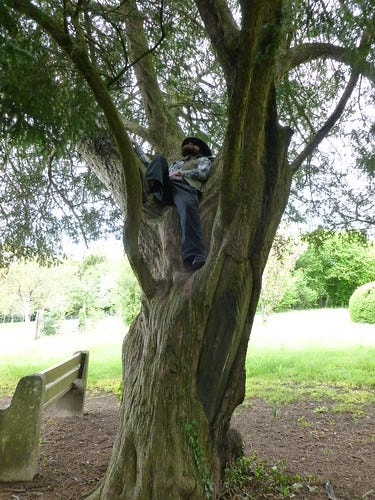 Probably the most comfortable tree I've ever been in. The vest was designed more for urban environments and their fabric choice significantly reduces the weight of a garment that has two dozen pockets, and improves its ability to deal with warmer weather. What some outdoor clothing manufacturers have done is use a more durable material (such as cordura) on the high wear areas, which in the case of this vest would be the shoulders when carrying a pack. I think that might increase durability without significantly impacting weight or breathability. Another suggestion I have would be to create a waterproof pocket. This ought to be easy enough - a waterproof zipper, waterproof fabric, and seam-sealed stitches. Perhaps the pocket designed for carrying documents could be made of that. In the interim, I just use Aloksak waterproof bags to protect anything important. Remember when I mentioned using the splits in the side of the vest when using a hip belt? They were designed so that you could easily put your hands in your pant pockets even when the vest is zipped up. If Scottevest made the side-splits a little longer, the hip belt problem would pretty much be solved altogether. Lastly, while I personally hold no preference for camo clothing, I could imagine that hunters or others who need camo would like that as an option. Perhaps adding a color choice in multicam would please a few people - although wearing camo clothing over the vest would solve that problem too. I've found the olive green to be very nice however, and it doesn't attract the kind of attention that camo would.
The little things
The attention to detail that went into this vest is difficult to put in writing. Although the vest is made in China, the stitching is very tidy, certainly much better than my experience with Maxpedition products, and given the number of pockets and their complexity, the price tag seems well justified. One feature that I liked was the addition of magnets to the two hand-warmer pockets. I imagine that of all the pockets, these are the ones you're most likely to forget to zip up. So what the magnets do is automatically close the pocket the moment you remove your hand. If you're carrying a wallet here, this is definitely a good idea. The magnets don't seem to interfere with electronics (usually placed in other pockets), but are definitely a consideration if you have a pacemaker. Thankfully, Scottevest have indicated that it is easy to remove the stitching holding the magnets if you didn't want them (or take it to a seamstress if you don't want to do it yourself). There is a special glasses pocket with an attached elasticated micro fiber cloth included inside. A very handy feature. There's also a keychain lanyard in the right hand-warmer pocket. The lanyard stretches out, allowing you to use whatever is on your keychain without risking dropping or losing it.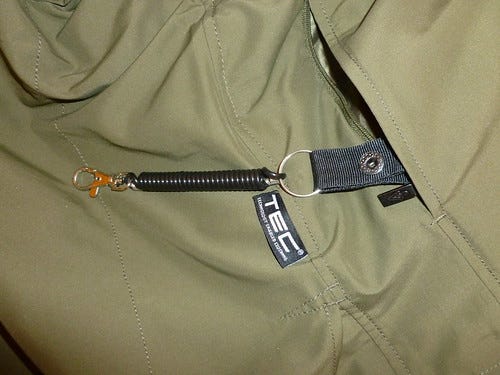 Many of the pockets have small labels next to them with pictures of what should go inside, e.g. tickets, camera, sunglasses, etc., and they also provide a pocket layout map to help you figure out what's what.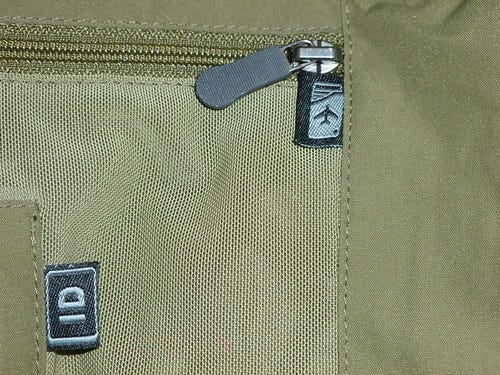 Summary
It's impressive just how easily the Scottevest Travel Vest swallows a ridiculous amount of gear. I've always been annoyed by the way your average outdoor-type fleece has only one chest pocket. Why?! It's just a waste of real estate. But this Travel Vest really manages to use every single inch of space, while also placing most pockets in ways that don't overlap. If like me you find yourself wanting to carry certain emergency preparedness items on you on a daily basis, or you do a lot of hiking and traveling and hate having to dig through your pack to get to your food and water - this vest is the ticket. If you have any questions or comments, or you want me to take pictures of any other part of the vest, just leave a comment below :) Should you decide to purchase the vest, please use my Amazon referral link to support this website and future gear reviews: Scottevest Travel Vests