Discover more from Libertarian Prepper
The world divides politically into those who want people to be controlled, and those who have no such desire.
Why I stopped using the Tom Bihn Synapse 25
The Tom Bihn Synapse 25 gets some of the highest ratings around in the traveling community. Go onto most any forum to do with EDC, traveling, airports and luggage, or even preparedness, and you'll get recommendations to look at Tom Bihn.
And without a doubt, the Synapse 25 excels at some things above and beyond what I've seen in any other pack - namely its organization and pocket layout. The light weight is fantastic, too. Over the past year, I've been using a Synapse 25 every single day for EDC, travel to several different countries, and work. I've probably logged hundreds of "back hours" (if that's a thing) with this. In one case I even used it as my only bag on a one week work and travel flight to Wales.
But I also have significant problems with the Synapse 25, which caused me to ultimately stop using this pack. And because I've seen none of these mentioned in the glowing reviews of this pack elsewhere, I figured someone needs to talk about it.
The Synapse 25's backpanel causes overheating, sweat, smell
The back panel and shoulder straps are rather basic and provide no ventilation whatsoever. So when I used this pack on a three month trip to Thailand, or during the summer in Europe, my back and shoulders got seriously hot. And sweaty. Very sweaty. And all the mesh backing and shoulder straps do is absorb that sweat, and then begin to smell.
And unfortunately, that smell is hard to wash out. Regular detergent didn't work for me - the forums recommend you obtain some kind of special chemicals and soak it in a tub, a hassle or downright infeasible when traveling. And when I did finally wash the smell out, it was back within 3-4 days of active use. What's the point of wearing merino baselayers that don't smell if your synthetic pack reeks from several feet away? I feel as though a lot of the praise put upon this pack comes from people who don't actually use it much, or who don't have a summer where they live.
While most modern hiking packs have mesh foams designed for breathability by creating gaps for airflow where your back is, or by suspending the pack itself an inch or two from your back, the Synapse 25 takes advantage of none of these developments. This makes this pack seriously uncomfortable and smelly to use in hot climates. Even my 9 liter hydration pack from Black Diamond has holes in the back padding to aid in ventilation.
No suspension system - carrying a heavy load is uncomfortable
Modern hiking packs also have a suspension system with a frame sheet or stays and a hip belt. While not necessary for very light loads, when I want to load up more than about 14lbs into my pack, I like to transfer that weight away from my shoulders and spine, and onto my hips, where 60-80% of it is supposed to sit. Now, normally I would understand why they chose to avoid the added weight and cost of this on a 25 liter pack (although the Synapse 25 costs more than hiking packs twice its size coming from good brands like Osprey, Gregory, and Black Diamond), but Tom Bihn's Guide Pack, at 31 liters and specifically designed for hikes into the mountains, has no hip belt either.
Gossamer Gear make a 60+ liter pack (called the Mariposa) with a full suspension system and hip belt, and they make it weigh almost a pound less than the Guide's pack. Hip belts don't need to weigh a ton.
Durability issues with the zippers' waterproofing
The Synapse 25, together with most of Tom Bihn's range of bags, use some really nifty waterproof zippers. The problem is, they're not durable. After about 6 months of use, the material that's supposed to close together and keep the water out on my zippers started fraying. I sent an email to customer support and they said this was normal. Well, the zippers kept fraying, and there are now gaps (see picture below) that let water through. Also somewhat importantly, the bag's looks took a turn for the worse. If you have to use a pack for somewhat important occasions, it's preferable for it not to look like it's falling apart.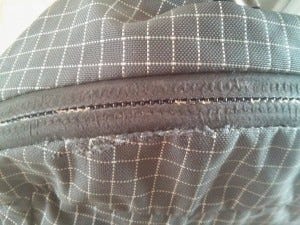 I've had a waterproof jacket from Arc'teryx for twice as long as this backpack and it's seen at least as much use, yet the waterproof zippers there are perfectly fine. If you search the Tom Bihn forums, you'll see that the zipper issue is quite common and people run into it after a few months to a few years of use, probably depending on whether you use the pack every day or not. Since this is a known problem, I would suggest Tom Bihn change to more durable waterproofing on their zippers. To clarify, the actual integrity and motion of the zippers themselves has remained perfectly fine, it's the waterproofing on top that's been failing.
Despite all of this, the Synapse 25 would still make a great pack for many people. Anyone living in cooler places where back ventilation is irrelevant would be fine, and if you're going to keep the load inside your pack to a minimum, you won't need any frame sheet or stays with a hip belt. But for the price of the pack, which is almost $200, you can get yourself an excellent hiking pack that takes advantage of the last few decades of advancements in pack fitting and carry, and still have $100 to spend on other gear. Or pie. Lots and lots of pie :)