Discover more from Libertarian Prepper
The world divides politically into those who want people to be controlled, and those who have no such desire.
Woolpower – as great as they say?
It seems to be really hard to find any negative reviews for the Woolpower brand of clothing made in Sweden. Which, given my recent experience with them, is kind of surprising.
I'll say immediately that the actual material they use is great. A combination of breathable, odor-resistant merino wool on the inside, and a durable blend of polyester and polyamide on the outside. What could go wrong?
Everything else, apparently. I've had to return Woolpower every shirt I've ordered so far, and the reason is that both the fit and quality control are atrocious. I very much doubt it's a coincidence that both of the shirts I ordered were badly stitched. I only took a photo of the second one when I decided that I would write about it. You can see it below: the zipper is clearly not centered.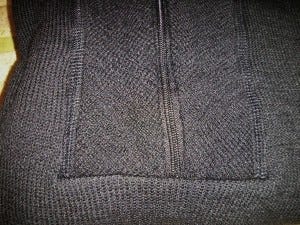 Normally this wouldn't be a big deal, but for the price they charge and all the good reviews online, you'd think the quality control would be better than 2/2 with uneven or defective stitching. The first one I ordered had the fabric between the zipper and the shirt coming apart at the seams.
The other issue is fit. I'm a fairly skinny guy. I weigh about 135lbs for a height of 5'9". It's very rare for this to happen, but it's been consistent with Woolpower (and one other brand which shall go unnamed): the fit around the armpits is way too tight. So tight, that after an hour of walking you will develop sores from friction. This is in a medium size that otherwise fits just fine.
Woolpower, in their expensive, Made in Sweden wisdom, have also decided to disregard many of the other advancements outdoor companies have made in clothing in the past few decades. For instance, Arc'teryx, as a rule, seem to put beard guards on everything. Even if you don't have a beard that gets caught in zippers, they add a bit of warmth by putting fabric between your skin and metal.
Oh, and instead of using YKK zippers, Woolpower uses a proprietary one that doesn't run smoothly at all and inspires zero confidence in its long-term durability. For a shirt that costs $100, you'd think they would bother to put in a bit more effort.
So, to recap: Woolpower costs as much as Icebreaker or Arc'teryx but has poor quality control, fit issues, dubious zippers, and few of the non-fabric advancements in clothing of the past 30 years.
/rant over.
p.s. Their socks are great.